Nepal Tea House Trek
---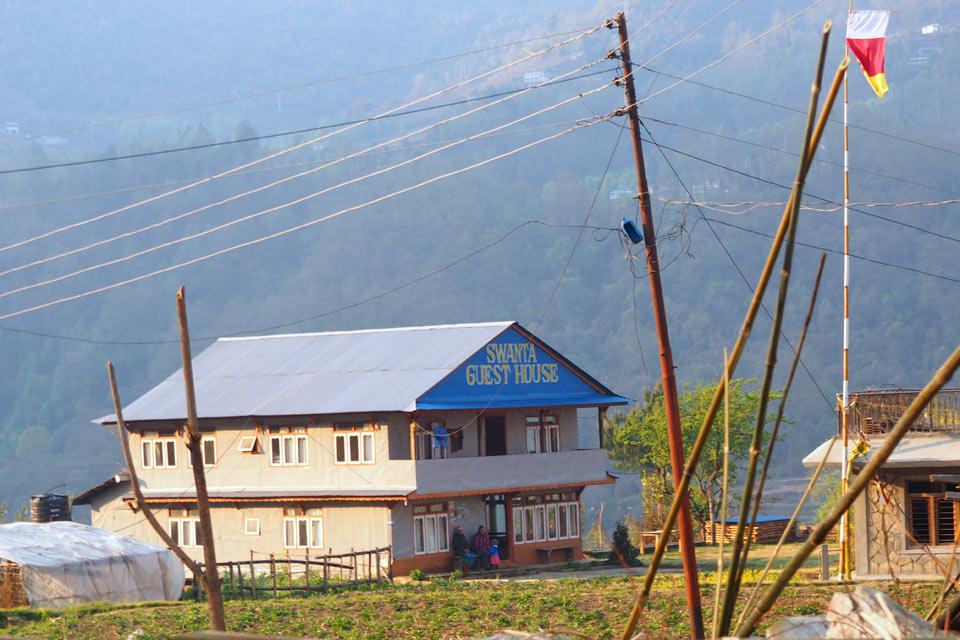 In the early days, the adventure of short trekking to scenic destinations started with carrying the required food and camping equipment by self. It was by that time when most of the new trails and destinations were discovered. The fun-loving and enthusiastic travelers were also accompanied by the helper staff for logistical arrangements in the sophisticated trips which normally made a larger crew. However, this had the disadvantage of having an expensive trip where the travelers had to take responsibility for the whole crew members' food and remuneration cost.
The Tea House Concept
The concept of Tea House emerged to ease travelers to some extent while traveling. The locals of the villages who operated small tea shops started a homestay for paying guests who arrive late and couldn't proceed further on their trail due to darkness. This concept allowed travelers to travel farther for trekking and get accommodation in some locals villager's house to stay and have a meal for the night. Further later, well organized small guest houses started emerging in the popular trails at some sites where rooms, food, and drinks were served in exchange for money. With time the tea houses grew its standard of serving and now most of the tea houses in Nepal have registered themselves as business as per Nepal Government's direction and have been operating legally and contributing to the local and national economy.
Tea Houses (aka local lodges) are totally different from city hotels/ guesthouses. These lodges are pretty basic which are either made from stones or woods depending on their location and have comparatively fewer rooms than what the hotels in the city serve.

Advantages of Tea House Trekking
End of the stress of arranging expensive camping equipment and carrying them for the trip.
Much less supporting staff (guide/ porters) for the trip compared to the camping trips where cooks and kitchen boys were mandatory.
Far less expensive trip.
Cozy and easy overnight stays.
Opportunity to learn the locals' lifestyle and culture.
Limitations of Tea House Trekking
Most of the tea houses don't have a pre-booking facility unlike in city hotels.
Most tea houses only accept cash (either Nepalese or FCY like USD/ Euros) but not cards.
Most tea houses don't have an attached bathroom and those who have will have an expensive room rate.
Local tea houses are so basic that they don't have a western toilet (commode) and have shared squat toilets instead. Somewhere the toilet might be located outside the tea house too.
Requirements of the Travelers fulfilled by the Tea Houses
Accommodation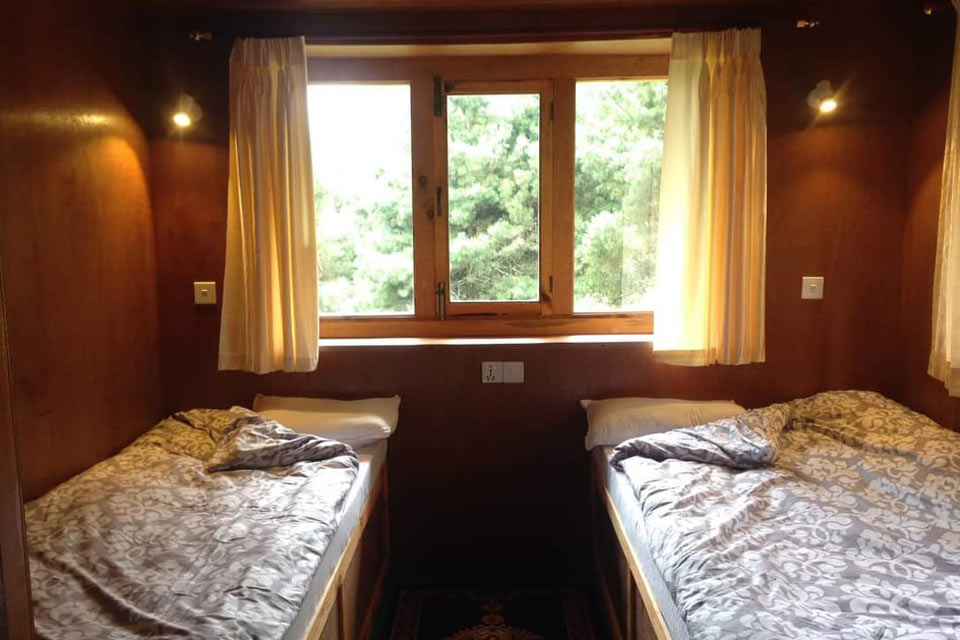 The tea houses opened on the trekking trail provides a basic accommodation facility, normally with a limited number of small twin rooms. Single rooms are not quite common as space is not quite abundant in the mountain lodges. The simple wooden beds in the twin room have a mattress, a bedsheet, a pillow, and a blanket. Depending on the altitude and dropped temperature at the location, the lodge owner may provide you an extra blanket if their lodge is not quite crowded with the trekkers. However, it is advised to bring your own sleeping bag or cotton/ fleece liner.
In most of the tea houses built from wood, the wooden walls in between two rooms can be very thin. Hence, for sound sleep, consider bringing a good pair of earplugs too.
Meals and Drinks
As you are trekking in remote places to enjoy the scenic beauty, you might wish to have a wonderful fine dining cuisine while enjoying the mountains and landscapes. But it's important to note that this is the facility available in only very few luxury lodges in the Everest and Annapurna Region trails. Most of the tea houses have a basic common dining hall with basic foods served. Normally, the tea houses have a similar set of menu serving Dal-Bhat-Tarkari, Chowmein, Mo:Mo:, pizza, pasta, some rice dishes, and noodles dishes. The preparation time may vary depending on place and altitude but at most of the lodges, Dal-Bhat is readily available which is freshly prepared and healthy too. Most of the trekkers and trekking staff choose this food over other dishes due to this reason.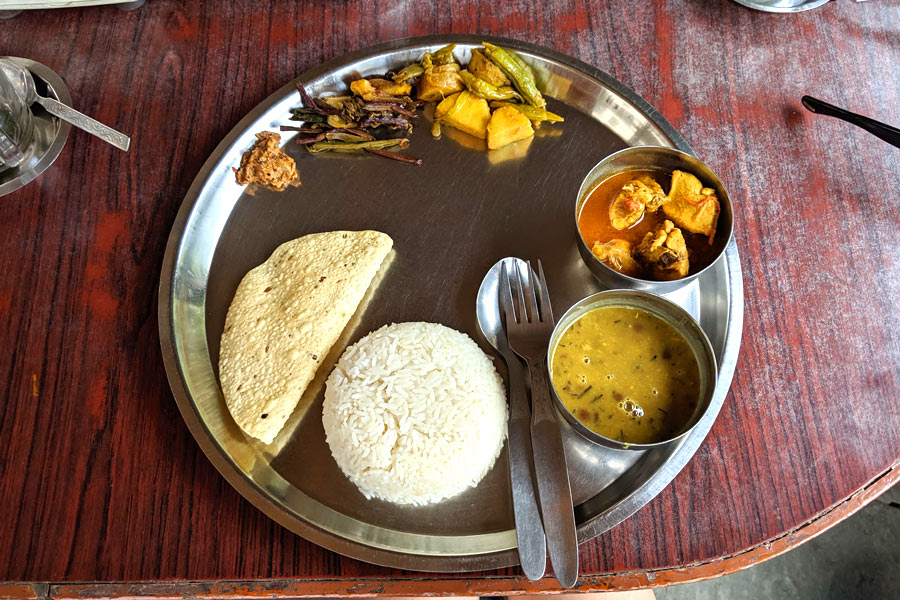 Similarly, the tea houses offer drinks like soups, tea/ coffee, hot/cold water as mentioned in the menu. The prices of these meals and drinks may also vary depending on the altitude location. Normally, the prices of food and drinks at higher altitudes tend to be higher than at lower altitudes due to the unavailability of the equipment (LPG Gas cylinders/ kerosene) and ingredients nearby. The difficulty plus extra cost in transporting them easily hikes the price of such which ultimately affects the food and drinks price.
Electricity and WiFi
With the end of a long power outage in Nepal a few years back, most of the tea houses are now bright with electricity. Most tea houses in popular trekking trails are well equipped with electricity and wifi. Some also have back up power from solar panels, inverter batteries, or generator. That means you will be having a comfortable stay in most of the overnight stay stops. Most bedrooms are only provided with a light switch and don't have a power socket for charging devices. However, you can get your devices charged in a small fee of $2 - $3 at the dining hall.
WiFi is also available in most of the lodges in the dining hall area but the connection speed may vary depending on the speed subscribed by the lodge and the number of internet users. You might need to pay a small fee to the lodge to use the wifi.
Toilet, Shower, and Sanitization
Toilets in the mountains are quite basic and do not provide a western-style toilet. Most tea houses in Nepal have shared squat toilets which can also be located outside of the tea house building at someplace. So, it's best not to have very high expectations if you are trekking in rural places. But some standard lodges in popular trails may provide a room with an attached bathroom which will also put some extra burden on your pocket. If you are not familiar with using water for cleaning and use toilet paper instead, make sure that you carry tissue paper that easily decomposes in septic tanks. You can purchase them before starting the trek as toilet papers are rare commodities in the mountains.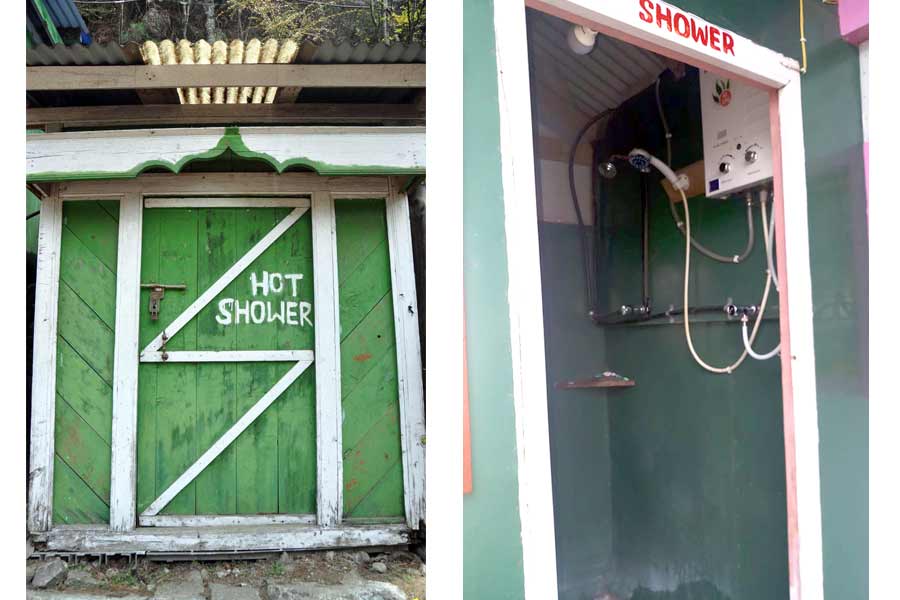 The tea houses also offer you a cold/hot shower facility. But having a hot shower will attract a charge of $1 - $2, or more per shower, depending on locations. The lodge owner might also charge for a bucket of warm water for a bath if the hot shower facility is not available in a remote place.
If you are on a long trek, you might want to wash your clothes to reuse them fresh. Some properties in the Everest and Annapurna region do provide laundry service for their guests. Some lodges also have a staff to wash the clothes for you. The price for such laundry service may vary depending on the location and pieces of clothes. But if you wish to wash on your own using the tap water, you won't be charged but it's best to ask the lodge owner or your guide first.
Etiquettes to follow
Tea Houses are mostly a family-run business operated by less educated. straight forward and hard-working locals. They might not know how to make rules and regulations for their guests but would definitely expect some kind gestures from their guests. Here are some basic and simple etiquettes you can follow during your stay in any Tea House :
The room rates in most standard tea houses are considered cheap and not much profit generative but the actual income of such properties generates from the food and beverages consumed by their guests. Hence, make sure that you have the meals from the same lodge where you would be staying for the night.
Make sure that while you enter your room, you leave your boots outside the room, get proper washing of your hands and feet, and use the flipflops provided.
Be careful that you don't leave the trash throwing randomly but use the dustbin properly.
After using the toilet, flush it properly either from a flush tank or a bucket of water. Use decomposable toilet paper only.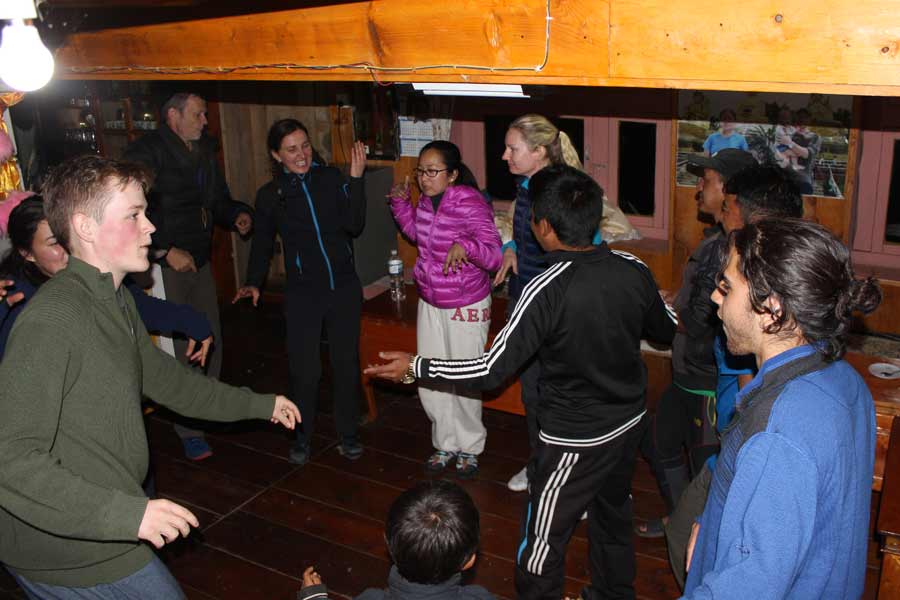 Having this basic information about tea house trekking in Nepal will help you a lot in making the most out of your trip.
Happy Traveling !!
Featured Package
Recent Blog