Nepal Trek Equipments: Fundamental Checklist
---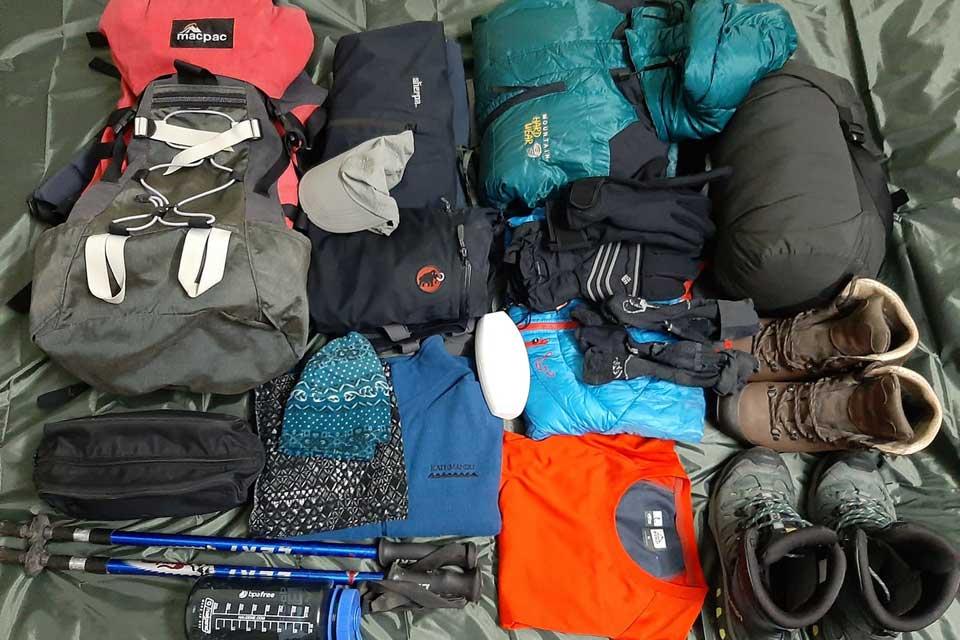 Are you planning for a trek in Nepal this year and wondering how you should be prepared with the equipment needed for your trek? Here is a perfect guide which can help you in packing your gears for your trip to Nepal.
It's a well-known fact that trekking is obviously not an easy trip and requires preparation with an adequate amount of right gears to get it completed with comfort. When a traveler is planning a trek for the first time without any idea about packing knowledge, they will end up buying and packing either too much of the stuff or too less. If you pack less, you might need to purchase the gears again in Kathmandu, which may sound a good idea to some travelers as they can travel light from home to Nepal. Or if you pack more (than enough), the porter may not feel happy to carry unnecessarily heavy duffle bag or simply an additional porter might be needed attracting additional burden to your pocket. Hence, it is important to have proper knowledge of packing the right amount of right gears depending on the trip you are going to commence.
Below listed are some major gears that are required for comfortable tea house trekking in Nepal or any Himalayan destinations.
1. Clothing and Footwear
Proper clothing and footwear is the main part of any trip that determines your comfort while you travel. But it certainly does not mean that more stuff provides better comfort. You should make sure that your clothes and footwear should properly fit in your kit bag, also taking care of the baggage limit provided by the airline companies.
Preferred over trainers/ tennis shoes for trekking, a good pair of lightweight walking boots (preferably high ankle shoes) provide great ankle support while walking up/ downhill. Having gaiters along with your boots are recommended if you are traveling in bad weather season. The slightly heavier traditional leather boots are also good but make sure that you have worn these boots several times before to prevent blisters while walking. It's recommended to carry your boots in your hand luggage on International flights or just wear them for ease. In case your luggage is delayed or misplaced by the airlines (which can happen in an unlucky day), you will have at least your well broken in boots to walk easily. We do not recommend borrowing or renting boots.
Lightweight shoes/ trainers
These shoes are good for walking around in towns or during tours. You can also use sandals or flip-flops depending on the weather condition.
This is a must have cloth when you are trekking in high altitudes as the temperature can fall below freezing after sunset and in the morning. A good quality down jacket provides you adequate warmth when the temperature drops. If you do not have one, don't worry, you can rent it in Kathmandu for approximately USD 1.00 per day.
Thick sweater/ Fleece Jacket
A thick jumper/ sweater or fleece jacket is necessary, as it can be very cold at altitude. Make sure that your waterproof jacket is loose enough to wear over your sweater or fleece.
For your trips during the monsoon period or at high altitudes where snowfall occurs.
Suitable for everyday walking. Light cotton trousers are mostly recommended. Jeans are not recommended as they are often difficult to walk in over long distances and become cumbersome when wet.
Useful during mornings and evenings in high altitudes.
A warm headgear will help you keep your head warm and a good hat can prevent sunburn.
It is best to wear a pair of liner socks under a pair of thick loop stitch socks. This helps to protect your feet against blisters. Avoid nylon socks as they are abrasive, don't breath well and cause blisters. 3 pairs of thick socks and 3 pairs of thin socks should be enough so far.
Comfortable around camp and much more practical (and warmer) to sleep in than pajamas. Alternatively, thermal underwear is good.
Having lightweight and quick drying t-shirts will be best.
Prevents sunburn on your arms and keeps airborne biting insects at bay.
Thermal Underwear
Light material, loose fitting, and medium colored pants will help a lot. Having two will be better although one can be enough for shorter treks. If you are heading up high, slightly thicker soft shell pair would be better.
For winter trekking, best to have a combined fleece buff or a fleece neck gaiter.
2. Equipment and accessories
While most of the tea houses offer a blanket, such blankets are not often cleaned and are not hygienic, hence, best to have own sleeping bag. As most treks pass through a variety of climatic conditions in Nepal, it's best to have a 4 season sleeping bag for your trip. You may prefer down over the synthetic sleeping bag as good down filled bags are light, fluffy, and thick (700 to 800 fill is the best). A cotton/ fleece liner will help keep your sleeping bag clean. If you are planning just a trek in Nepal and feeling lazy to carry a sleeping bag from your home, you can hire a good quality sleeping bag in cheap renting price in Kathmandu too. Let us know if one needs to be arranged for you.
This is a large sized bag used to carry your trek gears and equipment. Normally carried by porters (if hired), this bag should be strong, waterproof, and simple designed without wheels/ frames. You may have your own duffel bag for the trek but Trek Guiders Team will also provide you the company's kitbag for the trek (to be returned after completion of the trek).
If you are hiring a porter for your trip, most of the equipment will be carried by the porter (weight limit per porter: 25 kgs). However, it's not wise to stop your porter multiple times for getting frequently used gears like your camera, binoculars, fleece jacket, cash, documents, or any other important valuables from the duffel bag. Instead, it's best to carry a medium size day bag of 30 - 35L which will be enough to have these frequent using stuff packed and carried on the way.
A good pair of telescopic trekking/ ski poles help you a lot with keeping us the balance while walking and helps reducing fatigue on legs. Trekking poles are not available on hire in Kathmandu but you can buy them if you wish not to bring from home.
It's best not to trust water from tap or springs to drink. In most of the places, the local communities have banned the use of mineral water bottles to reduce the pollution caused by use and throw plastic bottles. You may bring a good quality water bottle of 1 - 2L capacity (1L bottle being much convenient while carrying) and ask for the lodge owner for boiled water to be on a safe side. Although the boiled water will have extra charges and levied by the owner directly from you, you will have a healthy stomach, at least, which won't ruin your dream trip.
Bring a good wraparound glasses suitable for walking in bright daylight and in snow as there will be a huge bright reflection. Sunglasses may be easy to lose or break, so bring a cheap spare pair.
Head Torch, spare batteries, and bulb
Head torch helps a lot while walking in the dark or while reading or finding your stuffs in the room in dark. The quality of extra batteries/ bulbs may be low in Kathmandu. So best to bring all together from home. However, good quality alkaline AA Batteries can be purchased in some shops in Kathmandu.
Try to keep heavy cosmetics etc to a minimum. Essentials are toothbrush/paste, biodegradable soap, small towel, a small nail brush, and toilet rolls! 'Wet Wipes' are great for a quick clean up in your room, so bring a pack of those (non-perfumed to avoid rashes!).
Sun Block Cream and Lip Guard
A good quality sun block cream will protect you from sunburn and harmful effects of UV rays while walking full day under the sun. Similarly, a petroleum jelly lip guard can protect your lips from cracking due to cold wind.?
The first aid kit and medical supplies carried by your trek guide are specially for the trekking staff only. You should have your own supply of plasters, aspirin, diarrhea tablets, water purifying tablets, and also a comprehensive blister kit. (Please do not give medicines to local people without consulting the trek leader.)
This belt purse is quite handy for keeping small tools and money for small purchases on the local shops.
Apart from your trip payments bring enough cash which can be exchanged in Money exchange in Thamel city. The extra payments for extra meals, hot water, hot shower, snacks are best to be made in Nepalese currency. However, tipping can be made in either Nepalese currency or USD/ Euro. Depending on your stay length, approximately $400 - $500 can be enough or you can also use your ATM card to withdraw money in Kathmandu/ Pokhara or ATM at Namche.
These are the basic equipment lists used for trekking in Nepal. If you are planning for longer treks, peak climbing, or high expedition, the equipment will vary and quantity will increase.
Peak Climbing Clothing and Equipment (approved by UIAA):
In addition to the above trekking gears, you will need the following add ons to your Peak Climbing Trip.
Gore-Tex Jacket and Trouser
Alpine Boot for 6000m+ altitude
Snow Glass
Warm Gloves
Climbing Socks
Gaiters
High altitude sleeping bag and mattress
Ice ax
Climbing Crampons
Harness
Hand Ascenders (Zumar)
Figure 8 Climbing Ring
Carabiner (Autolock - 4 pc, Unlock - 4 pc per climber)
Sling ropes ( 3m rope - 1 pc, 2m rope - 3 pc)
Climbing Helmet
Headlight and torch
Rucksack (40 - 50 L)
Expedition (7000m+ & 8000m+) Clothing and Equipment (approved by UIAA):
In addition to the above gears, you will need the following add ons for Expedition trips.
Climbing Down Suit
Mountaineering boot
What you can hire with Trek Guiders?
Sleeping Bag: Costs USD 1.00 per day.
Down Jacket: Costs USD 1.00 per day.
What equipment Trek Guiders will provide you for the trek?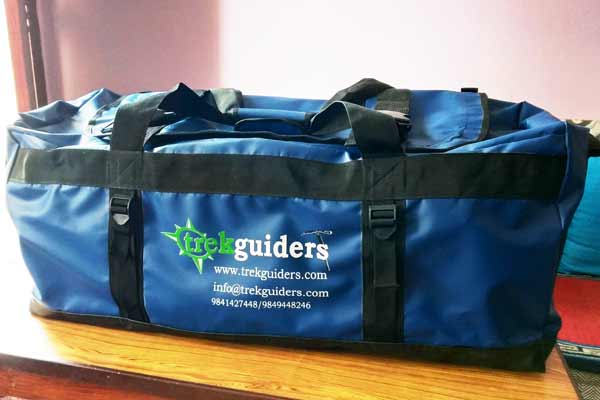 If you have hired a porter for your trip, he will carry your kitbag, packed with your gears for the trek, for you during the trek. The kitbag provided will be waterproof and dustproof. One porter will carry the kitbags of two trekkers and the weight combined should not exceed 25 kgs.
Happy Travelling !!
Featured Package
Recent Blog