Manaslu Circuit Trek
Trip Overview
Manaslu region was opened for trekking only since 1991 and started tea house service since 2010 only. Located along the border of Nepal and Tibet it is now a controlled trekking area which allows only organized trekking groups with special permits to venture through its spectacular circuit. Manaslu has a distinctive environment which is exceptionally rich and has made this region one of the finest trekkers destinations of Nepal.
Highlights
The less crowded trail as compared to other busy trails like Everest Base Camp and Annapurna Circuit.
High pass crossing of Larkya La Pass (5160m)
Magnificent view of Mt. Manaslu and Ganesh Himal range.
Opportunity to visit Pungen monastery (or Manaslu Base Camp)
Itinerary
---
Day 01: Arrival in Kathmandu.

Welcome to Kathmandu. You will be received by one of our office representatives at the TIA exit section and escort you to your hotel afterward. Depending on your arrival time, you will have the chance to stroll around the places nearby your hotel on your own.
Hotel
Day 02: Permit preparation and trip briefing day.

Today you will have a free day in Kathmandu while your specialist will take time to arrange permits for your trek. You will have time to explore around the Kathmandu valley on your own or enjoy the Cultural Day Tour with an experienced tour guide arranged by Trek Guiders.
In the evening, you will be met by your specialist in your hotel lobby. S/he will introduce you to your guide for the trek and brief you shortly about your trek, things to do/ not to do, and any optional activities you may enjoy during the trip. You can ask any queries or share feelings with your specialist during the briefing.
Hotel
Breakfast
Day 03: Drive Kathmandu to Sotikhola (720m).

After breakfast in Kathmandu hotel, get prepared for a long way drive to Sotikhola. The drive follows the route of Prithvi Highway (road to Pokhara from Kathmandu) at first giving wonderful views of Annapurna, Manaslu, Ganesh Himal, and Langtang. After reaching Dhading, the drive leaves the highway to move ahead to Gorkha Bazaar. From here the road starts getting rough. Driving slowly and safely will take you to Sotikhola after around 8 - 10 hours from Kathmandu.
Tea House
Breakfast, Lunch, Dinner
Day 04: Trek from Sotikhola to Machhakhola (900m)

After breakfast, the trek begins with crossing a bridge and continues with walking a trail of beautiful Sal forest climbing onto a ridge above huge rapids on the Budhi Gandaki. Few hours of walking will take you to Khursane where the rocky trail has way up and down eventually making its way down passing few rice paddies, then up and around to the Gurung village of Labubesi. From here walking few more hours will cross a suspension bridge before reaching Machhakhola.
Tea House
Breakfast, Lunch, Dinner
Day 05: Trek from Machhakhola to Jagat (1410m)

Today's trail is a bit narrow at first making some minor ups and downs, eventually crossing the Tharo Khola which leads to Khorlabesi. After a few more ascends and descends, you will arrive at a small hot spring where you can take a short break.
From here you will be climbing yet another ridge and cross the Budhi Gandaki river and climb on a wide and well-crafted staircase before you reach Dobhan. Upon crossing a suspension bridge over the Yaru Khola, you will climb the stone stairs and then drop to the river and again climb more stone stairs to Tharo Bharyang. Crossing the west bank of the Budhi Gandaki, you climb over a ridge and trek along the river finally climbing towards the village of Jagat.
Tea House
Breakfast, Lunch, Dinner
Day 06: Trek from Jagat to Deng (1804m)

Today, the trek begins with a climb over a rocky ridge towards Salleri and then descend to Sirdibas afterward. The valley widens a bit as the trail continues up to Ghatta Khola (river). You will further continue walking upstream to a long suspension bridge in Philim, a large Gurung village. The trail turns north from here, just above the lowest house in the village and stays on a fairly level trail as it crosses millet fields to Ekle Bhatti.
The route now enters a steep, uninhabited gorge. At this point, you will descend to the grassy land slopes and cross the Budhi Gandaki river. You will then trek along the west bank for a while, cross the east bank and then return back again to the west bank. Continuing through the trail the valley widens and you'll pass through bamboo forests to the Deng Khola. Upon crossing this river, you will reach the tiny village of Deng.
Tea House
Breakfast, Lunch, Dinner
Day 07: Trek from Deng to Namrung (2630m)

After you are done with your breakfast at Deng, start the trek with crossing the Budhi Gandaki river first and climb towards Rana located at 1910m. Climb a bit further from here to join a trail from Bhi, heading west to the Budhi Gandaki Valley. This trail passes through the lush forest and Mani Stones where you will turn towards the trail to Ghap.
If you are an avid hiker willing to walk a slightly difficult trail then you can take the route through the Prok Village instead of walking the traditional route followed by most trekkers and guides. The reason for this option is having the chance of getting a viewpoint for a beautiful sight of Siringi Himal. From here you will get to cross the Budhi Gandaki river several times crossing several Gompas en-route. The trail will follow the river upstream through a dense forest leading to a narrow gorge. You will see the forest becoming less dense with fine trails again. After a last steep climb, you will reach your destination of the day, Namrung Village.
Tea House
Breakfast, Lunch, Dinner
Day 08: Trek from Namrung to Samagaon (3530m)

Namrung village offers good views of Siring Himal, Ganesh Himal and Himal Chuli from the village. You can spend some time here for pictures before you start your trek of the day.
You will first climb steadily and then pass through the forest which leads to a fine village, Lihi, with many Chortens and barley terraces. The trail from here drops and crosses the side valley of Simnamg Himal and Ganesh Himal always close by. You will be passing through many villages like Sho, Lho, and Shyala villages before reaching Samagaon. Extraordinary views of Mt. Manaslu from Lho village and exploring the famous Ribung Gompa is always rewarding.
In Shyala village, you will be surrounded by snowcapped smiling mountains like Himal Chuli and Ngadi Chuli to the left, Manaslu Himal straight ahead and other snowcapped peaks to the right. Ganesh Himal also can be seen at a far sight. Today's journey ends in Samagaon where you will spend the night.
Day 09: Restday at Samagaon. Optional day hike to Pungyen Gompa (3870m)

Today is the first restday of the trip at Samagaon which is vital to get properly acclimatized witht he altitude. You can choose to rest and relax at your lodge at Samagaon or choose to have some activities done on this day.
For those who are interested in exploring more, there is an old Gompa (Monastery) located on a small hill near to the Sama village. The top of this hill offers a great view of Pungyen Glacier.While on the way to this Monastery, you will get to see the rich Sherpa culture of this area and Sherpa women clad in the traditional clothes and ornaments which is quite facinating. After a short stay there, return back to Samagaon for overnight.
Tea House
Breakfast, Lunch, Dinner
Day 10: Trek from Samagaon to Samdo (3860m)

After breakfast in Samagaon, you will descend to the Budhi Gandaki river and follow the trail to a bridge over a side stream. The left side trail here leads to Manaslu Base Camp, which is also worth a day visit for travelers having an extra day during the trip. The valley begins to widen while you pass through several Mani Stone walls on the way. Walking an easy trail on a shelf above the river passing through Juniper and Birch forests of Kermo Kharka is mesmerizing. You will drop off the shelf, cross the Budhi Gandaki river on a wooden bridge and then steeply climb onto a promontory between two forks of the river. Passing through the large white Kani seen from the stone arch after crossing the river, you will find Samdo, a beautiful small village.
Tea House
Breakfast, Lunch, Dinner
Day 11: Restday in Samdo.

Today would be your second rest day of the trip. After breakfast you can either decide to have a full day rest or choose one of the two options you can do on this day.
The first option (recommended one) can be the hike to the valley which is located directly at the back of the Samdo village. This hike takes you to one of the trade passes to Tibet which offers excellent views of Mt. Manaslu along with other Himalayan giants like Simrang, Hiunchuli, Ngadi, Larkye Peak, Cheo and Kang Guru behind the pass if you are lucky with the weather.
While walking to this valley, you can have a sight of some beautiful mountain birds like Lophophorus (the national bird of Nepal), Lammergeyer and Himalayan Griffin soaring high above.
Another option can be a trip to the Gya La (large pass) to the north of Samdo which is frequently used as trading route to Tibet. This option is a longer hiking option and can be tiring for another big day. Hence, not recommended if you are not prepared to face the challenge.
Tea House
Breakfast, Lunch, Dinner
Day 12: Trek from Samdo to Dharamsala (4460m)

After your breakfast at Dharmashala, you will continue to walk down crossing the wooden bridge over Budi Gandaki river and begin walking upward. Before reaching the valley of the Salka Khola you will get to cross two streams and see the Larkya Glacier. From here you will be climbing up again to the stone guest house located at an altitude of 4450m, which is not a lodge actually but a kind of shelter called Dharmashala. The name of the place here is also called or referred to as Larke Phedi.
The short walk today leaves plenty of time for acclimatization and relaxing in the afternoon to get prepared for next big day.
Local tent
Breakfast, Lunch, Dinner
Day 13: Trek from Dharmasala to Bhimthang (3720m) via Larkya La Pass (5160m)

You will be setting out for a long day hike today crossing a high pass of Larkya La. Starting from Dharmasala, after a short climb, you will reach a valley on the north side of the Larkya Glaciers from where you can enjoy great views of Cho Danda and Larkya Peak.
Starting up for the pass, you will walk across moraines of the glacier, making a gradual ascent at first which becomes gradually steeper in the last section of the pass. You will get to see the outstanding views of Himlung Himal, Cheo Himal, Kang Guru and the majestic Annapurna II from the pass. Today's long trip will end with walking in misty low pastures in the early evening with Mt. Manaslu looming in the distance.
Tea House
Breakfast, Lunch, Dinner
Day 14: Trek from Bhimthang to Tilije (2300m)

After breakfast, head out to a ridge at Bhimthang for great views of Mt. Manaslu, Lamjung Himal, Himlung Himal and Cheo Himal. Descending to the high pasture of Sangure Kharka, you will cross a bridge over Dudh Khola. Walking through Rhododendron Forest and through a narrow valley, you will reach the highest cultivated land of the valley at Karche (2785m). You will be passing through the lush fields before starting a steep climb over a ridge. The trail comes off the ridge in a big, sweeping arc to the river bank at 2580m before you reach the village of Gho. You can opt to stay at Gho village too if you like but Tilije have better lodges in comparison to lodges at Gho. Walk a little more to have a good night sleep at Tilije.
Tea House
Breakfast, Lunch, Dinner
Day 15: Trek from Tilije to Tal (1700m)

From Tilije, you will climb over a small ridge enjoying the stone paved trail as it passes through a beautiful village. Crossing the bridge over the Dudh Khola, climb up through a Chorten shaped arch and pass a Mani wall reaching the Thonje village. Here you will go through a police checkpoint and continue trek to Dharapani from where the Annapurna Circuit section begins.
Walking further down, you will cross Karte Village and after quite a bit of walking more you will cross Marshyangdi River. You will come across some Mani Walls before reaching Tal village, situated at the foot of a large waterfall.
Tea House
Breakfast, Lunch, Dinner
Day 16: Trek from Tal to Syange (1080m)

Today's trail continues to a steep way to the village of Chyamje crossing the beautiful Marsyangdi River via a suspension bridge once again.
The trail then descends further through picturesque rhododendron and pine forests to get to the village of Syange where you'll stay the night. This is your last night on the trail! Before dinner, make sure to check out the magnificent waterfall in this village.
Tea House
Breakfast, Lunch, Dinner
Day 17: Drive from Syange to Kathmandu.

Wake up with breakfast in Syange and perhaps take one last walk around the village before you hit the road. The drive from Syange to Kathmandu via Besi Sahar offers an opportunity to enjoy both hill and mountain landscapes often coming into direct view with the banks of the Marsyangdi and Trishuli rivers. You'll also drive by some beautiful villages with farming terraces on both sides of the road.

In Kathmandu, you will be escorted to your hotel by your trek guide where you'll have the rest of the day to spend on your own.
Hotel
Breakfast, Lunch
Day 18: Final Departure

You will be picked up from your hotel 3.5 hours prior to your international flight time by one of our office representatives to escort you to the TIA. Trip concludes !!
Breakfast
Commencing this trip
This trip starts from Kathmandu with a scenic drive of around 9 hours to Sotikhola where the night will be spent. Walking and enjoying the nature, you will enter the restricted area from Jagat and be in there until you walk out of Bhimthang crossing Larkya La Pass.
Best time to do this trip
The best time to make the most out of Manaslu Trek will be during Spring and Autumn. March to Mid-June and October till Mid-December will be the best time for the visit which will offer clear skies and visibility of the mountains. Trekking this region during Summer (monsoon time) and winter is not recommended due to the risk of landslides in summer and heavy snow on the high passes in winter.
What is included?
3 nights accommodation in Kathmandu with breakfast on twin sharing basis.
14 nights accommodation in standard tea houses during the trek on a full board twin sharing basis (Breakfast, Lunch, and dinner with tea/coffee).
Experienced English speaking trek guide and porter/s for the trek (1 porter assigned for 2 travelers).
Kathmandu to Sotikhola & Syange to Kathmandu transfers in private vehicle.
2 International Airport transfers in private vehicle.
All required trek permit fees include Restricted area permit for Manaslu area.
Equipment allowances, salary, and insurance for the trek staffs.
Kit bags/duffle bags for the trek (size 55L).
A first aid kit with basic supplies.
All government taxes.
What is not included?
Single room supplement charges during Hotel stay in Kathmandu.
Lunches and Dinners in Kathmandu.
Soft Drinks and Alcoholic beverages like Coke, Beer, etc. and cigarettes.
Any sort of guided/ unguided city tours and transfers for the same.
Entrance fees for monasteries and museums (if any).
Nepal entry visa fee.
International airfares.
Hot shower and hot drinking water during the trek.
Your personal trekking gears and equipment like the sleeping bag, trekking poles, down jackets, etc.
Personal nature expenses related to the phone, wifi, gadget charging, laundry, gratitude/ Tips, snacks expenses, extra meals, tea, and coffees, etc.
Your travel insurance and emergency rescue evacuation if any.
Any activities or services not mentioned in "Service included section"
Important points to be noted:
---
The mentioned trip price is per person price quoted for an open trek* based on 5 travelers group. The trip price will vary depending on the final size of the group. The trip price for a customized private trip arrangement may alter.
---
The Single Room Supplement charge will be USD 90.00 net for the traveler willing to use a single room for 3 nights stay in Kathmandu Hotel.
---
Single rooms will not be available in the tea houses during the trek due to the limited number of lodges on the trail.
---
An assistant trek guide will be provided to the group above 5 travelers.
---
* Open trek refers to the trek opened for all interested travelers from around the world to join.
What does our clients say about this trip?
---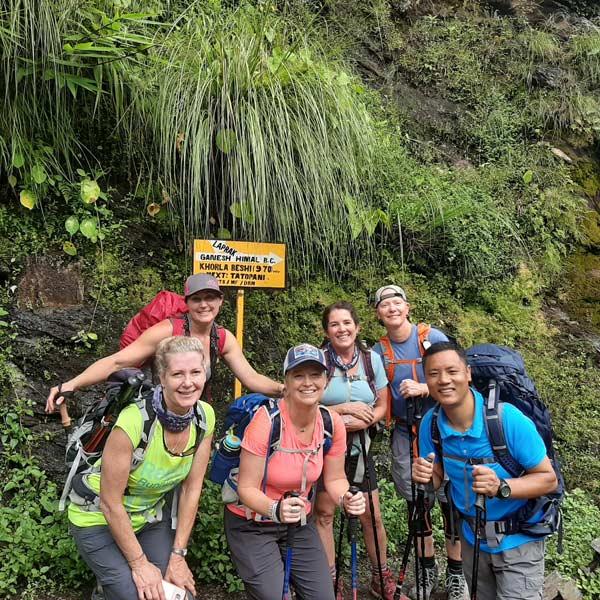 Manaslu Trek Sept/Oct
Gayle Rossiter, New Zealand
17th October, 2019
This is my third visit to Nepal and the second trek using Lhakpa Sona's guiding services. Both times my family and friends have been well taken care of and experienced a camaraderie with the team involved. This time Lhakpa Chhetar guided us around Manaslu Circuit with the same knowledge and support that I had experienced on my previous trip. Throughout the trek all the group were assisted in whatever way required, making the ascent/trek achievable for everyone. Will be using this company again for my next trip. Highly recommended.
Source: Trip Advisor
---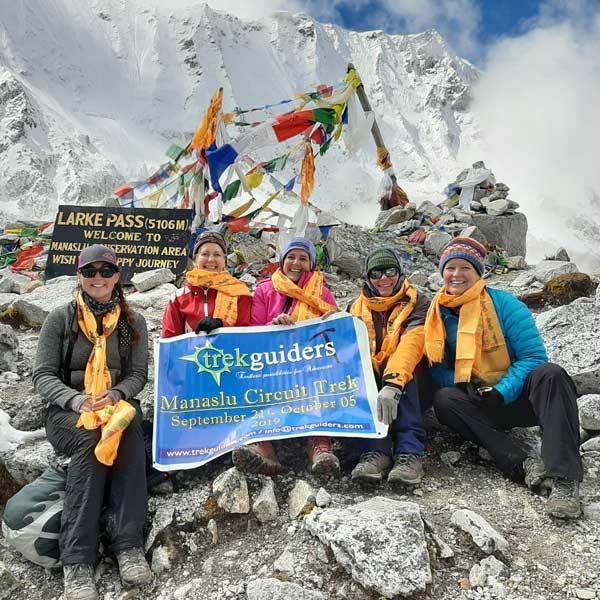 Amazing Manaslu Circuit Trek
Kimberly Johnson, USA
17th October, 2019
This was my second trek working with Lhakpa Sona, Trek Guiders CEO and once again he put together an experience that exceeded all expectations. As a former hiking/trekking guide myself, I can recognize great service and that is just what Trek Guiders is all about. Their pre-trip communications are thorough and prepared us well for the journey ahead and then from the moment they picked us up at the airport in Kathmandu to when the time came for us to depart Nepal, they went above and beyond to make sure we had a great time. The Manaslu Circuit trek is an amazing journey in and of itself and our guide, Lhakpa Chhetar (Sona's brother), was very knowledgable about the area and very flexible to the varied abilities/pace of our group. Our assistant guide, Pasang, and our porter team were all equally wonderful. The entire team was extremely personable, funny, accommodating and just all-around the best group to spend two weeks with -- there was so much laughter! I can't wait to book another Nepal adventure with this amazing organization. They work hard to show you the best of Nepal.
---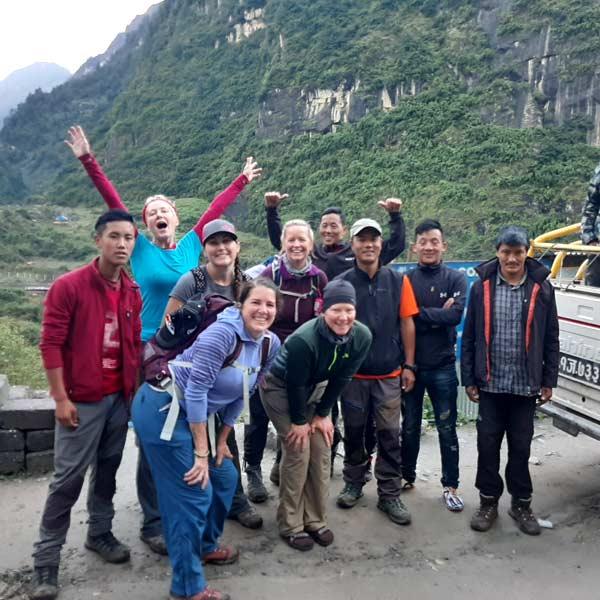 Trek Guiders are the best!!
Susan Marie Gillette, USA
1st November, 2019
This is my second trip to Nepal for trekking and Trek Guiders was definitely better than my last guides. They consistently went above and beyond to ensure customer satisfaction. Thank you again for a great trip!!
Source: Trip Advisor
---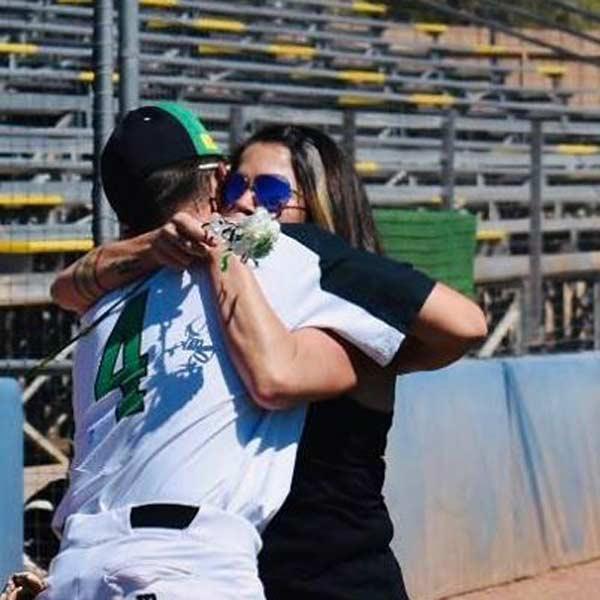 Nepal adventure Manaslu trek!
Alise Rodney, USA
18th November, 2019
We had an amazing adventure!! Trek guiders took excellent care of us. They treated so well from the minute we landed until 21 days later when they dropped us back at the airport! This trip was life-changing and the bonds that we made will last a lifetime. From our sherpas that carried our things to our head guide, we got the best care and the best experience with unbelievable knowledge of the land and the culture. Thank you trek guiders, Lhakpa, and Passon for an experience of a lifetime.
Source: Trip Advisor
---