Corporate Social Responsibility has become an increasingly important phenomenon around the world and refers to companies striving to make a positive impact on society and the environment, whilst conducting an economically viable business. Nepal is regarded as one of the 'developing' countries in the world where private companies can play a vital role in supporting its people.
Our company, Trek Guiders, embraces this concept and is committed to responsible travel codes by employing local guides and porters, supporting community-based initiatives, and providing sponsorship programs to children in remote areas.
We, the founding members of Trek Guiders, have actively participated as volunteers in various projects related to health campaigns and clean drinking water supply in rural villages of the Solukhumbu district.
The 'Sewing Project' was another project, sponsored by the Rotary Club of New Zealand and supported by us as volunteers, which empowered women, fostered self-reliance and independence.
Currently, our main focus is on continuing the support for education for children in remote areas, in particular, the Kharikhola village of the Solukhumbu district, and Ramche Village of the Rasuwa District.
At present, six children from the Solukhumbu District and one child from the Rasuwa District are receiving scholarships.
This program was started before the founding of Trek Guiders Pvt. Ltd., in 2018, with financial assistance given by our friends abroad, in particular, the Netherlands, New Zealand, and Australia to cover education fees, study materials, and uniforms.
Being in the highly competitive trekking industry, and dedicated towards the social responsibility, makes us aware of the economic, social and environmental challenges that lie ahead, both locally and globally. However, we believe in consistently providing our clients with high-quality trekking holidays and contributing a percentage of our yearly profit to the Education Sponsorship and Natural Disaster relief fund.
Trek Guiders CSR Team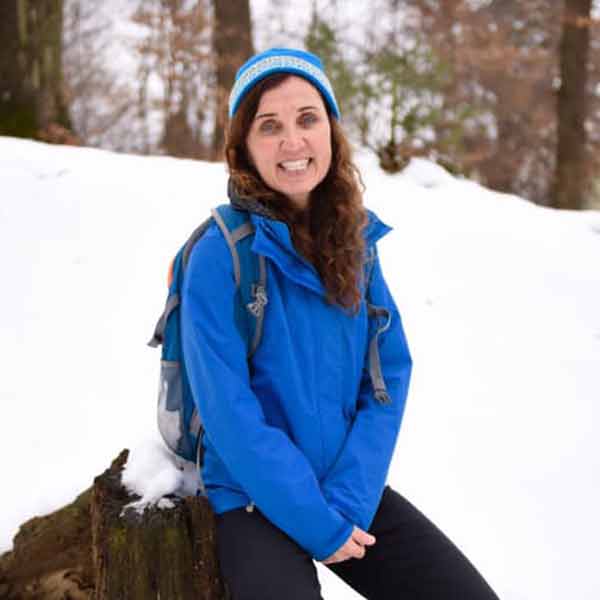 Barbara Marie Leitner | Chief CSR Advocate
Sydney, Australia.
Namaste!
I am Barbara. I live in Sydney, Australia, and work as a Registered Nurse.
I am pleased to introduce myself as a chief advocate for Trek Guiders' Corporate Social Responsibility (CSR) program.
Born in Australia, but raised in Austria, I grew up surrounded by mountains.
I had pictures hung on my walls of Nepalese children high up in their Himalayan villages and children from the countries of Africa who were much less fortunate than myself. I knew then, that one day I wanted to do something to help…
My dream became a reality when I visited Nepal. This small, but beautiful, landlocked country in Southern Asia, for the first time in January 2016.
It was then, that I met the founder of Trek guiders, Lhakpa Sona Sherpa, who guided us to Annapurna Base Camp. Stunned by the sheer beauty of the snow-capped mountains, friendly faces, and diverse culture, my passion for trekking amongst the Himalayas was born.
I had an instant urge to combine this passion with my strong desire to improve the lives of children and families, particularly, those in remote areas that have largely been untouched by social welfare programs from the government.
It also became obvious to me very quickly, that Lhakpa was someone who could also empathize strongly with these underprivileged children and less fortunate communities. He himself grew up in the remote village of Pangom, the Solukhumbu district in the Everest Region, where going to school meant walking long distances each day, with often poor trail conditions and poor footwear. Helping out in the fields or with cattle, or looking after little siblings was the norm, and one pencil and one set of school uniform were precious things to have.
So with strong personal experiences and emotions attached, Lhakpa and I set out to provide a sponsorship program to support the education of children in the remote areas of the Everest Region. The funds cover book costs, pencils, and uniforms for the children each year. We also organized a charity trek with an Australian group to donate clothes to school children at Mera School in Kharikhola.
We believe in ensuring kindly donated funds go directly to the children and their families, so we aim to make yearly visits to these areas, and also follow up on their progress and overall well being. If you are interested in charity treks, you can register your interest with us and we will organize these most rewarding trekking experiences. To make future projects possible, including health camps, sanitation programs, and environmental conservation, as well as furthering our education sponsorships for children in remote areas, your contribution into the following bank account will be greatly appreciated.
Barbara Marie Leitner
Commonwealth Bank
BSB 06 2199
Acc No 10740717
"We make a living by what we get. We make a life by what we give." - Sir Winston Churchill
Happy Trekking!
Barbara Marie Leitner
Our CSR Activities