Mardi Himal and Khopra Danda Trek
Trip Overview
Mardi Himal area used to be accessed by very few trekkers with full camping crew and equipment to enjoy the scenic vistas of Mt. Mardi (5587m), Mt. Machhapuchhre (6993m), and other Himalayan range. Originally, this area and the route were used by the shepherds to graze their livestock and still, this area provides a great spot for summer grazing.
This trip slowly started gaining popularity after the trek was officially opened in 2012 A.D. The tea houses in these areas are pretty basic and quite limited in number. So, not the best one for those who are seeking for top luxury trips. But in comparison to the previous days, the tea houses here are slowly becoming well organized making the trek an easy trip.
Khopra Danda is a rising destination which is gaining much popularity for its off the beaten path feature. This trek offers a spectacular Himalayan view and rewards the trekkers with an opportunity to visit several ancient villages where we can see the different ethnic groups people like Gurungs, Magars, Brahmins, Chhetris & Dalits.
Highlights
Enjoy off the beaten path of the Khopra Ridge with comparatively less crowd on the trail.
Experience of the closer views of Mt. Machhapuchhre, Mardi Himal, Annapurna South, Hiuchuli, and many other peaks.
A chance to witness the culture and lifestyle of local people with overnight stays at homestay like lodges.
Great sunrise view from Khopra Ridge and sunset view from Muldhai Hill.
Itinerary
---
Day 01 : Arrival in Kathmandu.

Welcome to Kathmandu. You will be received by one of our office representatives at the TIA exit section and escort you to your hotel afterward.
Depending on your arrival time, you will have the chance to stroll around the places nearby your hotel on your own.
Hotel
Day 02 : Permits preparation and trip briefing day.

Today you will have a free day in Kathmandu while your specialist will take time to arrange permits for your trek. You will have time to explore around the Kathmandu valley on your own or enjoy the cultural tour with an experienced tour guide arranged by Trek Guiders.
In the evening, you will be met by your specialist in your hotel lobby. S/he will introduce you to your guide for the trek and brief you shortly about your trek, things to do/ not to do, and any optional activities you may enjoy during the trip. You can ask any queries or share feelings with your specialist during the briefing.
Hotel
Breakfast
Day 03 : Drive from Kathmandu to Pokhara.

Enjoy your breakfast at your hotel and ask your hotel manager to safe-keep your luggage in the hotel store if you are planning to return to the same hotel again after the trek. Then starting off with a drive to Pokhara with your trekking crew, you will reach your destination in approximately 6 - 7 hours.
Upon reaching Pokhara, check in to your hotel and have some rest. The evening is free to stroll around the Lakeside market or the bank of Phewa Lake.
Hotel
Breakfast
Day 04 : Drive to Phedi (1130m) and trek to Pothana (1860m).

After breakfast in your hotel, you will be picked up by your guide in the hotel lobby and in a pre-arranged private vehicle start the trip with a drive to Phedi, from where the trek begins. Praising the fantastic views of the mountains, ascend along the ridge to Dhampus. Take some time to capture the magnificent views of Fishtail and Annapurna after you have your lunch here. Continue some further walk to reach Pothana, where you will be staying overnight.
Tea House
Lunch, Dinner
Day 05 : Trek from Pothana to Forest Camp (2600m).

After breakfast, start walking to a place called Deurali (2230m) which is a small village located on a ridge with great views of Annapurna South, Mardi, and Machhapuchhre.
Continuing the trail through a dense forest of Oak, Maple, Hemlock, and Rhododendron, you will reach Forest Camp (Kokar Village). The lodges at Kokar are quite basic. Or we can say it's a homestay type lodge as there is no dining room. Serving the visitors helps these locals to earn some money. So, being thankful for their help and services, you will most likely get to enjoy the dinner in the kitchen with the owner, learning their experience and lifestyles.
Tea House
Breakfast, Lunch, Dinner
Day 06 : Trek from Forest Camp to Low Camp (3150m).

As you continue walking from Forest Camp, you will see the forest getting richer with Rhododendrons and trees getting covered with moss, lichen and tree ferns.
Upon reaching Low camp, you will see the views of Mardi Himal and Machhapuchhre getting much closer. There used to be very few basic lodges at Low Camp. But now, with the increasing number of tourists visiting this attraction, the number of lodges has increased dramatically. If you wish, you can still walk further up to Badal Danda for a better view. Please note, there is comparatively few lodges at Badal Danda.
Tea House
Breakfast, Lunch, Dinner
Day 07 : Trek from Low Camp to High Camp (3700m)

Climbing further along the ridge towards Mardi Himal and Machhapuchhre, you will leave the treeline of Badal Danda and arrive in the shrubby alpine area. Don't forget to look out for the Danphe Bird (Pheasant, the national bird of Nepal) on this section of the trail, as you may be lucky to have a sight of one.
The lodges at High Camp are comparatively larger with a separate dining room. At High camp, you will find yourself above the clouds and the view of Annapurna South, Hiunchuli, and Machhapuchhre are just superb.
Tea House
Breakfast, Lunch, Dinner
Day 08 : Trek to Mardi Himal BC (4500m) and return back to High Camp (3700m)

After an early morning breakfast, start your day trip to Mardi Himal Basecamp walking through the grass and with ascend and descend in the narrow and sometimes steep trail.
The Mardi Himal Base Camp will be reached in around 2 hours of walking but walking further to Upper Viewpoint (4600m) will give you the spectacular views of Mardi Himal (5587m), Annapurna I (8091m), Annapurna south (7219m), Hiunchuli (6441m), Baraha Shikhar (Mt. Fang) (7647m), Tent Peak (5695m), Singhachuli (6501m), Machapuchhre (6993m) and others.
Around early afternoon time, start the trek back to the High Camp for the overnight stay.
Tea House
Breakfast, Lunch, Dinner
Day 09 : Trek from High Camp to Landruk (1565m)

After breakfast in High Camp, start your journey towards Landruk village which is a huge settlement located on the way to the Annapurna Base Camp.
Moving down from High Camp towards the Forest Camp via Low Camp, you will find a junction which gives you a trail to move ahead directly to Landruk. Taking the right path, you will descend further towards a dense forest where the trail is quite peaceful. After a few hours of walking, you will reach a beautiful village of Landruk.
Tea House
Breakfast, Lunch, Dinner
Day 10 : Trek from Landruk to Tadapani (2610m)

Today, the trail will have a steep descend at first towards Modi river for an hour and afterward, you will ascend steep climb for about 2 - 3 hours through the scattered villages before reaching a beautiful Gurung village of Ghandruk. From here, you will get good views of Machhapuchhre, Annapurna, and other snow-capped mountains.
After lunch, get some time to visit the local Gurung museum, a house of ancient artifacts and tools used by Gurung community people during ancient times. Also get dressed in local Gurung costume for a photograph if you are interested.
Walking through the huge green jungle with different trees and animals, you will reach Tadapani finally. Give your foot some rest enjoying the wonderful mountain views around.
Tea House
Breakfast, Lunch, Dinner
Day 11 : Trek from Tadapani to Dobato (3420m). Sunset from Muldhai Hill (3637m)

After breakfast in Tadapani, begin walking in a more remote area of the Annapurna region through a beautiful rhododendron forest. This off-the-beaten trek route crosses beautiful Nepali villages and a variety of flora and fauna for an exciting experience.
You'll begin climbing into a beautiful rhododendron and oak forest on this upward trail. Then after a small descent, you'll continue making your way through another rhododendron forest. Pass several clearings with abandoned shacks before arriving on a bigger ridgetop clearing at Dobato, which in good weather should provide splendid views of Annapurna South and Machhapuchhre.
For those with extra energy to spare, head up to Muldhai peak for sunset views. It takes about 45 minutes from the teahouse to reach the view tower and the view is stunning, one of the highlights of the trek!
Tea House
Breakfast, Lunch, Dinner
Day 12 : Trek from Dobato to Khopra Danda (3660m)

Wake up early today and take a chance to climb to Muldhai Peak for a magnificent panorama view at sunrise. After spending some great moments capturing pictures, move down through the open ground and lush forest towards the wide pasture of Lower Chistibung.
To reach Upper Chistibung from here, you will walk on the trail through another forest. Upper Chistibung is a temporary herder's settlement. Keep your eyes wide open as you may get to see the national bird of Nepal, Lophophorus (Danphe) and Himalayan Thar on the grassy ridge high above the trail.
Continuing ahead, you'll embark on a steady climb above the treeline through pretty alpine meadows and pastures to reach Khopra. As you enter the ridge, look for the tip of Annapurna South in the distance.

Upon reaching Khopra, if time permits, go for an easy walk to a viewpoint overlooking the Kali Gandaki River far below in the deep valley. Based in Khopra for the night, you'll also admire the stunning snow-capped mountain panoramas including Mount Dhaulagiri, Nilgiri, and Annapurna South.
Tea House
Breakfast, Lunch, Dinner
Day 13 : Trek from Khopra Danda to Swanta (2270m)

Starting with a sunrise breakfast in Khopra Ridge, you'll begin your descent on the hillside. Continue making your way down a steep trail with frequent views of Dhaulagiri. In fact, the mountain provides a lovely backdrop to the terraced fields and traditional houses of nearby villages.
Once you arrive in Swanta, you'll have the rest of the afternoon and evening to explore the surrounding village—an area densely laden with pine, fir, birch, rhododendron, hemlock, oak, and juniper forests, as well as wildlife and exotic birds.
Tea House
Breakfast, Lunch, Dinner
Day 14 : Trek from Swanta to Ghorepani (2840m)

After breakfast in Swanta, you'll descend on the trail through village fields to a small river for a look at the local watermill. You'll then cross over the suspension bridge and start an uphill trek to the village of Chittre where you'll connect to the main trekking route in Ghorepani. Move ahead towards Ghorepani for overnight.
Tea House
Breakfast, Lunch, Dinner
Day 15 : Early morning sunrise view from the Poonhill (3210m). Trek to Hile (1460m)

You will need to wake up pretty early in the morning for approximately an hour hike up to Poonhill (referred to as Poon Danda in Nepali) from where the spectacular sunrise view can be seen. It's amazing to see the golden ray of sunlight touching the snow-covered peaks of Mt. Dhaulagiri, Annapurna South, Annapurna I, Fishtail, Nilgiri South, and Singa Chuli to name some peaks. Enjoy a cup of local tea while the sun rises high.
From here, walk downhill through rhododendron forests until you get to Hile, where you will be staying for the night.
Tea House
Breakfast, Lunch, Dinner
Day 16 : Drive from Hile to Pokhara.

Today you will drive back to Pokhara from Hile after breakfast. Upon reaching Pokhara, you will be dropped off in your hotel. The rest of the day is free for you to roam around in Pokhara Market on your own.
You can visit Phewa Lake for 1-hour boating experience or opt for a short sightseeing tour with your guide. In the evening, you can enjoy delicious meals at some of the authentic restaurants at the Lakeside market.

Hotel
Breakfast
Day 17 : Drive from Pokhara to Kathmandu.

You will be picked up by a private vehicle after your breakfast for drive back to Kathmandu. Following the same route of Prithivi Highway and enjoying the scenic vistas, you will reach Kathmandu in around 6 - 7 hours. You will be directly escorted to your hotel in Kathmandu. The evening is free for some last-minute shopping or relaxation.
Hotel
Breakfast
Day 18 : Depart Kathmandu.

You will be picked up from your hotel 3.5 hours prior to your international flight time by one of our office representatives to escort you to the TIA. Trip concludes !!
Breakfast
Commencing this trip
The trip starts from Pokhara which can be accessed by either surface transfer or via domestic flight depending on travelers' time, budget, and interest. Drive from Pokhara to Phedi, which will be the trek starting point of the trip, will take you approximately 1 hour of the day. Starting off from Phedi, you will start walking uphills enjoying the landscape views. You will get gradual ascent to the top getting acclimatized with the altitude. Please follow the suggestions of your guide to avoid AMS and walk as per the scheduled plan.
The trip is relatively easy unlike Ghorepani Trek but the day you hike to Mardi Himal Base Camp would be a bit tricky and strenuous while walking the narrow path and steep route. But the reward gained upon reaching the destination is unbeatable.
To continue towards the next destination, Khopra Danda, you will be returning the same way back down. After reaching Forest Camp, you will be taking another route on your right to reach Landruk where you will stay overnight. From here, the trail will start towards the off-the-beaten route to the Khopra Danda which is one of the top destinations gaining much popularity these days among the travelers for the magnificent views offered.
Return path back to Pokhara will be via Ghorepani and Poonhill which is one of the most popular and most visited destinations by most novice trekkers.
Best time to do this trip
In order to make the most out of your trip, best to plan your visit in the top season trek period. The best season considered for trekking is Autumn time (October till mid-December) and secondly during Spring (March till mid-June). This two-season provides the best landscape and Himalayas views with clear weather and blooming flowers.
Walking during summer will be a bit upsetting due to continuous rainfall, leeches on the route and muddy slippery trail. Some trekkers love to trek during winter time too but it all depends on their capacity to bear with cold and their luck with the weather.
What is included?
3 nights accommodation in 3-star Kathmandu Hotel with Breakfast on twin sharing basis.
2 nights accommodation in 3-star Pokhara Hotel with Breakfast on twin sharing basis.
12 nights accommodation in standard tea house during the trek on full board twin sharing basis (breakfast, lunch, and dinner with tea/ coffee)
2 International Airport transfers in a private vehicle.
Kathmandu to Pokhara and return transfers in a private vehicle.
ACAP and TIMS permit required for the trek.
Pokhara - Phedi and Hile - Pokhara transfers in a private vehicle.
English speaking local expert guide and porter on the trek.
Equipment allowances, salary, and insurance for trekking staff.
Kitbags/ duffle bag for the trek.
First aid kit with basic supplies for staff.
All government taxes.
What is not included?
Single room supplement charges for city hotels.
Lunches and Dinners in Kathmandu and Pokhara.
Lunches during Kathmandu to Pokhara and return surface transfer.
Additional airport transfers besides mentioned in the 'included' section.
Soft Drinks, Cigarettes, and soft/hard beverages like Coke, Beer, etc.
Any sort of guided/ unguided city tours and transfers for the same.
Entrance fees for heritage sites, monasteries, and museums (if any).
Hot shower and hot drinking water during the trek.
Nepal entry visa fee.
International airfares.
Your personal trekking gears and equipment like the sleeping bag, trekking poles, down jackets, etc.
Personal nature expenses related to the phone, wifi, gadget charging, laundry, gratitude/ Tips, snack expenses, extra meals, etc.
Your insurance and emergency rescue evacuation if any.
Any items not mentioned in "Service included section"
Important points to be noted:
---
The mentioned trip price is per person price quoted for an open trek* based on 5 travelers group. The trip price will vary depending on the final size of the group. The trip price for a customized private trip arrangement may alter.
---
The Single Room Supplement charge will be USD 150.00 net for the traveler willing to use a single room for 5 nights stay in Kathmandu and Pokhara Hotel.
---
Single rooms will not be available in the tea houses during the trek due to the limited number of lodges on the trail.
---
Depending on time availability or budget, travelers can opt for either tourist bus transport or domestic flight transfer for Kathmandu - Pokhara and return transport on a revised trip price without affecting the actual trek departing date.
---
An assistant trek guide will be provided to the group above 5 travelers.
---
* Open trek refers to the trek opened for all interested travelers from around the world to join.
What does our clients say about this trip?
---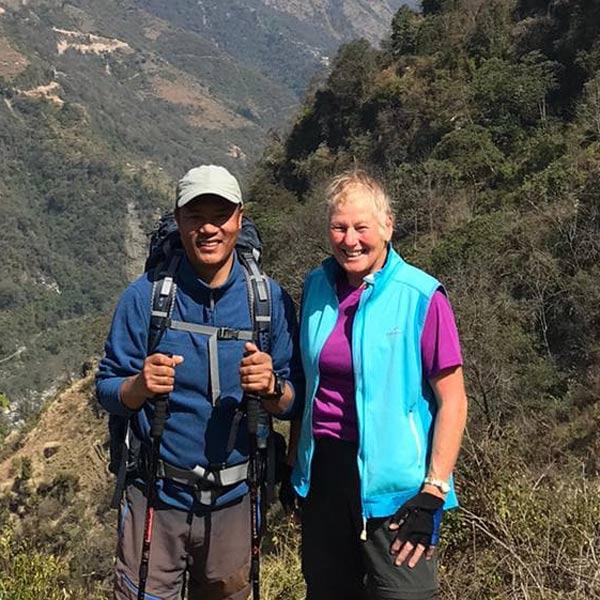 Mardi Himal & Khopra Danda Trek
Sue112020, New Zealand
1st April, 2020
Our trip was fantastic. It was well organized, clean and warm Tea Houses to stay. Flushing toilets approximately 50% of the time. Trek Guiders were professional, safe and enjoyable to travel with. Nothing was a problem for Lhakpa our Guide and Pasang our Porter. My daughter and I traveled with them over a period of 14 days. Being 67 years old and my daughter 33 years old both age groups were catered for. I would definitely travel with Trek Guiders again.
Source: Trip Advisor
---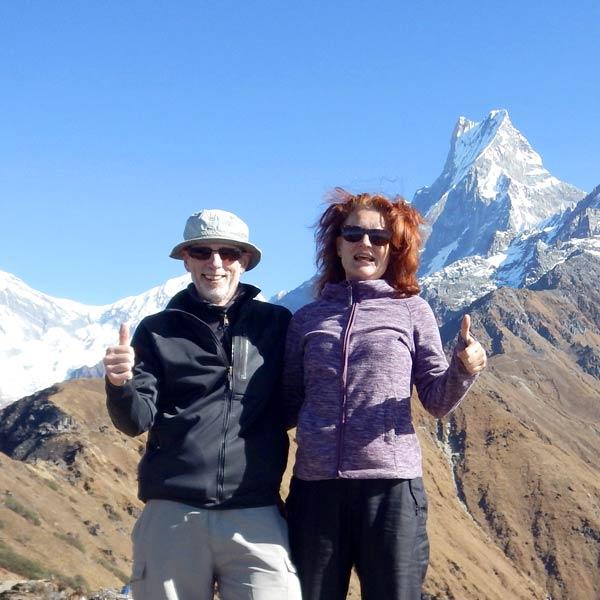 Khopra Danda and Mardi Himal Trek
Marton Severijnen, The Nederlands
5th December, 2021
Namaste,
Karin and I (58 and 59 yo) were so lucky. In spite of COVID-19, we could get back to lovely, overwhelming Nepal this Autumn. That also meant, getting back to our excellent guide and friend Lhakpa C Sherpa: yeah!
So, this time Annapurna region: Khopra Danda and Mardi Himal the Buddhist way, clockwise and tailormade. This way we got time to get acclimatized and zoom nicely in to the beautiful mountain ranges. Dhaulagiri, Annapurna South, Hiunchuli and ofcourse Machhapuchhre "in the face" all the time. This is a great combi trekking, with loads of nature and (mostly) indigenous Hindhu culture. We spent 19 days in the forests and mountains, with enough time to spare in both vivid Katmandu, Pokhara and Bhaktapur (World Heritage).
Walking days for mostly 4-5 hours took us first to Poon Hill, the Khopra ridge, later to Mardi viewpoint, a little over 4000 m altitude. Stunning views. Lhakpa took care of every need and detail. Best host in the world. Special thanks to Ang Babu Sherpa. He is an amazing, modest guy who took care of most luggage. The 4 of us made a great team. So, Trekguiders made us very happy again. Can't wait to get back.
Source : Trip Advisor
---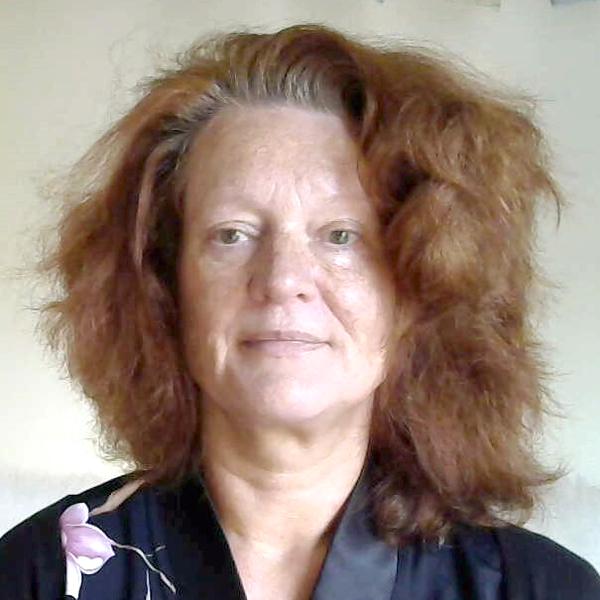 Wonderful trip to Khopra Danda and Mardi Himal
Karin Hulst, The Nederlands
19th December, 2021
It has been a month since my husband Marton Severijnen and I are back home from this wonderful trip with Lhakpa and Ang Babu. I just didn't want it to end, so I postponed writing my review.
Our trip was amazing. Beautiful nature, imposing mountains and a very warm welcome back to Nepal. Our guide Lhakpa was not only an excellent tour guide, but also a friend and a really well meaning person who wants you to have the time of your life. And he succeeded 100%. We met beautiful people on our way through the mountains and had lots of conversations about Nepal, buddishm and differences between East and West. And that is what made this trip so special for me: a beautiful mix between culture, nature, physical effort, religion, and very impressing mountains. Being with such a small group of 4 persons made it possible to make changes on the last minute. Lhakpa knows every little detail of the tour and made lots of wise suggestions. A felt completely taken good care of! We didn't had to worry about a thing, but just get up in the morning at the agreed time and move one leg for the other and enjoy. Even when it took me more effort and I couldn't come along as well as Marton and Lhakpa, he was very patient and made me feel safe and OK. Ang Babu was our most helpful companion and took care of our luggage. I only can say: sign up for a customised tour with Trekguiders and you will have a life changing experience!!
Thank you Lhakpa and Ang Babu!!!
Source : Trip Advisor
---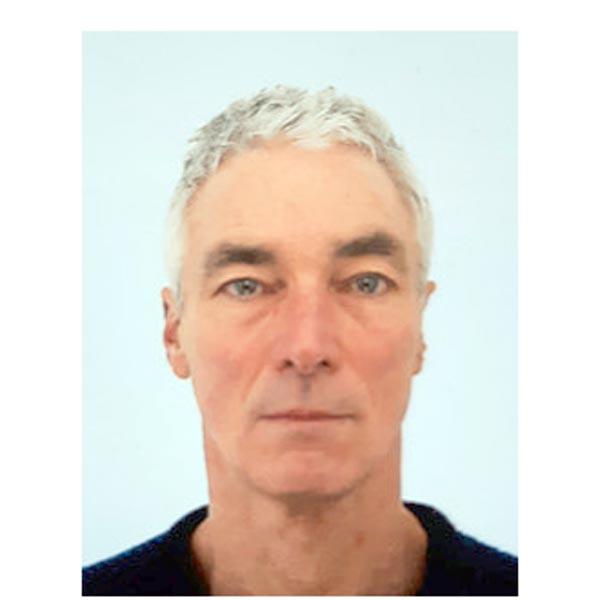 Mardi Himal and Khopra Danda
Aart Vrolijk, Nederlands
14th June, 2022
Really nice trekking but make sure that the itinerary and walking schedule matches with your expectations. Does it challenge your endurance enough? Behave as your own guide.
Source : Trip Advisor
---