"A good company offers excellent products and services. A great company also offers excellent products and services but also strives to make the world a better place." - Philip Kotler
Out of 7.7 Billion people on Earth, only very few lucky people are living a sophisticated life. Almost more than half of this figure population is poor and almost 1.3 Billion people are living in extreme poverty. It's a fact that no one will be there to help them in need besides the next human being having a good heart.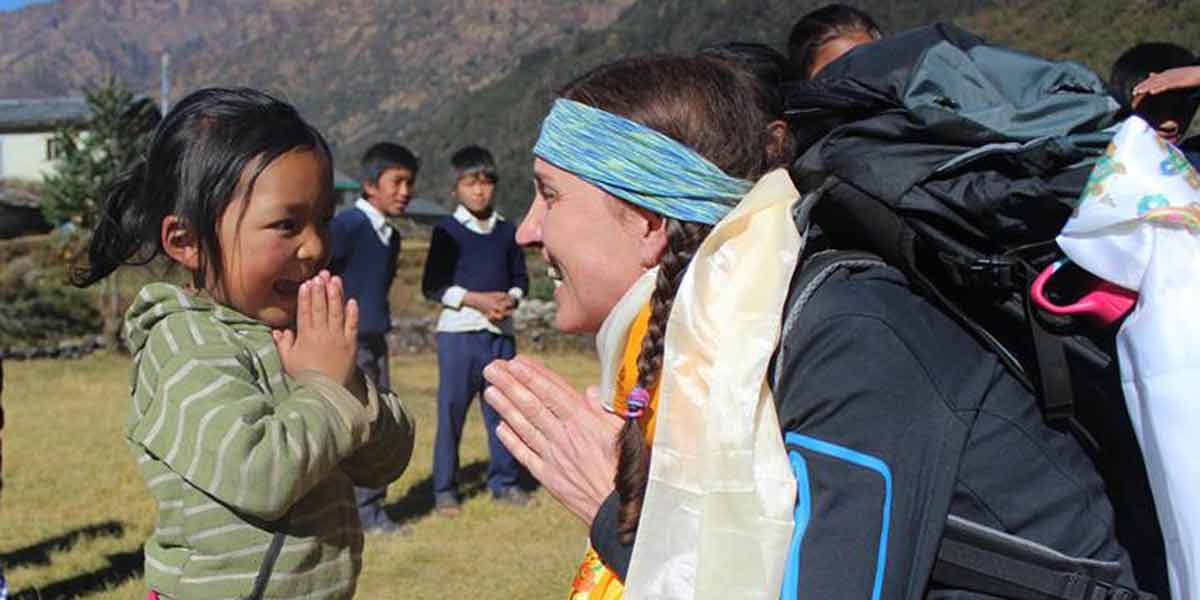 It's a fact that not everyone is fortunate enough to lead their lives in ease and comfort. Some people are unlucky with geographical locations that they have to travel much longer to collect just a pot of water, or access the market, or reach schools for education. In the context of Nepal, a wide range of illiteracy has been the main cause of poverty in most of the rural areas. As per the research data of 2018, still, 21% of the total population of Nepal is living below the poverty line.
Acknowledging this fact, we, the founding members of Trek Guiders had been actively participating in volunteering jobs in various projects related to health campaigns and clean drinking water supply operated in rural villages of Solukhumbu district. To be specific, the team members have particularly focused on helping the poor villagers of Kharikhola Village of Solukhumbu District and Ramche Village of Rasuwa District since the beginning of conducting social activities.
To eradicate poverty from the rural areas, we started to focus on educating the children from very poor and backward families of rural areas as access to proper education is the only way to move out of this horrible situation of poverty.
The project started with coordination with many foreign friends to raise funds to help those children and their parents to be able to pay the school fees required. Our small team got very lucky to get some great foreign friends contributing to the success of this project. Our team members and our friends from Nederlands, New Zealand, and Australia have managed to contribute financially for education fees, study materials, and uniforms of the children to create awareness and educated society for the future. Currently, 6 children from Solukhumbu District and 2 children from Rasuwa District are getting directly benefitted from the education sponsorship program.
Along with the education sponsorship, our small team of friends from Australia also managed to provide new clothes to the children of Kharikhola. It's important to note that most poor families can afford to buy new clothes only in Dashain, which is considered as the greatest festival of Nepal. Besides this, our porter named 'Tara' from Langtang, whose house was severely damaged during the 2015 earthquake, breathe a sigh of relief when one of our close friends from The Nederlands contributed him financially to rebuild his house. He is living happily with his family in his renovated house and does visit Kathmandu and accompany our trips as a porter.
In 2018, after the incorporation of our company - Trek Guiders Pvt. Ltd., we are even more excited to be of great help for more families and spread our scope of the project in a wider range. Our company promises to contribute 10% of its annual profit towards the Education Sponsorship and Natural Calamities Relief Fund. Since the incorporation of Trek Guiders, we have already started to provide a fair and timely payment of remuneration to the local guides and poor porters who contribute their time and efforts for the travelers visiting Nepal and doing trips from our company. And we still look ahead to be able to contribute more to society and help in creating a peaceful and prosperous nation.
Continuing the project which was started privately since 2012, we look ahead to seeking more contributors who would like to help the poor children to achieve a bright future from the light of education. We are targeting to add more children in the program and be able to send them to school without having them to work with their parents in the fields or grazing livestock in the age of playing and learning. If any individuals or organizations are willing to contribute something for the poor people of Nepal, please reach out to us at info@trekguiders.com.
---